Who's online
7 anonymous users and 0 registered users online.
You are an unregistered user or have not logged in. You can register here.
Latest News
The Game Store Prophets podcast spoke about Stephen Weese's book God Loves the Freaks. To skip to the commentary about the book, jump to the 31:00 mark.
Written by: dave
Monday, September 16, 2013
Print this
---
BlackWyrm authors will be on hand to haunt you at ScareFest, in Lexington, KY, beginning on Friday the 13th and going through Sunday. The event is only in its sixth year, and is already the country's largest horror/paranormal/mystical event, at 15,000 attendees last year.
Written by: dave
Sunday, September 08, 2013
Print this
---
BlackWyrm had a great time at DragonCon. We sold a couple hundred books and games, saw many great costumes, met all kinds of great people.
We'll be back again for next year.
Written by: dave
Friday, September 06, 2013
Print this
---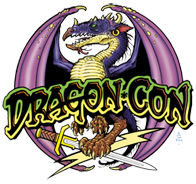 Several BlackWyrm authors will be at Dragon*Con in Atlanta over the extended Labor Day weekend (Friday through Monday). Come find us in booths 137, 138, 139, and 140 at the second floor dealers room.
We'll have novels, games, and accessories with us.
Written by: dave
Monday, August 26, 2013
Print this
---
The creative team behind Imaginary Friends poses with the original artwork in the BlackWyrm booth at GenCon 2013.
From left to right -- Michael Satran, the author; Bill "Teh Evil Bunneh" Keyes, the art director; and Mark Helwig, the cover artist.
Written by: dave
Monday, August 26, 2013
Print this
---
---
Pagesetter by Jørn Lind-Nielsen